Hello! You're receiving this newsletter because you signed up for an account at theatrebristol.net. If you no longer wish to receive these emails you can unsubscribe completely at any time.
Theatre Bristol Bulletin: 28 May 2015 The Blazing June Edition
As things hot up and we are promised a heat wave I'm going to highlight all things that are sizzling, blistering and baking. I'm not getting into the Sandals & Socks issue but I will pass on my newly acquired knowledge on Juvenile Spring Eruption…
An international holiday with the kids could be on the cards this summer but if not, taste the flavours of another county with Around the World in 80 Days with New International Encounter (6+ years) stopping at the Tobacco Factory Theatres or Hop with Neveski Prospekt (4+ years) cruising into Circomedia.
June could be the month to travel to a new job. You could be by the seaside with an ice-cream as PDSW need a Digital Marketing Coordinator in Bournemouth. But if you're more of a city break person how aboutProgramming and Producing Administrator at BOV or a paid Stage Management Internship with Theatre Alibi? Like to wear that little bit less in hot weather? The Natural Theatre Company are looking for a Company Administrator.
Turning up the heat is Prototype with a new open call for 5 artists / companies working across a wide range of disciplines to try out brand new ideas in front of an engaged and supportive audience on 12th July. The lights are hot, damn hot in there!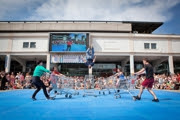 Dance Village have announced their bbbbbblistering new programme for 18th & 19th July including Boy Blue Ents, Trash Dollys, Jolie Vyann, Cory Baker, Upswing, 2Faced & James Wilton. Phew! That's some seriously hot stuff coming to Bristol. Nice one Dance Village.
50 Voices for Malcome X is baking some hot stories and hopes for civil rights from 11th – 13th June in BOV's Studio but you can cool down with a beer or lemonade as it's cabaret style.
As the sun is rising on lots of exciting things it's also setting on my time here at TB. My project is coming to an end and TB and I have been talking about good endings and I'm positive that this is definitely not an ending for Dance but a transition into something new. Bristol dance is thriving for both makers and audiences. I have to tip my hat to Mayfest, Cirocomedia & IBT for some excellent programming and to the artists; Dan Canham, Laura Dannequin, Karla Shacklock, Lisa May Thomas, Laila Diallo, Laura Street and Pinch to name a few, for their inspiring work. Thank you all for making my job such a pleasure & a big thank you to all the partners I have worked with and to TB for hosting me.
All the best
EJ for team TB
Get the latest from theatrebristol.net on the social networks that you use already!
Twiterati! You should be following us on twitter here: twitter.com/theatrebristol
Facebookers! Become a TB fan: facebook.com/theatrebristol
Feed demons! Subscribe to our content feeds: theatrebristol.net/news.rss.
News
Created by Aiden Strickland from Theatre Bristol
Posted on 19.05.15 | Categories:
Created by Aiden Strickland
Posted on 11.05.15 | Categories: bristol shakespeare festival, festival, shakespeare, family
Created by Rosanna Cook from Theatre Bristol
Posted on 30.04.15 | Categories:
What's On
Garden Opera – Mozart's Cosi Fan Tutte Performed by Tessitoura 14 Jun

Venue: Colston's Collegiate School
Full Price: £20.00
Concession Price: 10.00 (Under 16's)

On Sunday 14th June, Bristol's very own touring opera company, Tessitoura will be performing Mozart's Cosi Fan Tutte within the exclusive grounds of Colston's School, Bristol. …

Posted by Joanne Bamford | 07.05.15 | Categories: opera, mozart, outdoor

CURRENT LOCATION FellSwoop Theatre 04 Jun 14 Jun

Venue: Trinity Centre
Full Price: £12.00
Concession Price: £9.00

Presented by Tobacco Factory Theatres and Fellswoop Theatre at the Trinity Centre Written by Toshiki OkadaAdapted by the company Having presented FellSwoop …

Posted by Tobacco Factory Theatres | 23.04.15

Dada Delights Desperate Men Mivart Artists 04 Jun

Venue: Circomedia – St Paul's Church
Full Price: £7.00
Concession Price: £5.00

A triple bill of some of Bristol's wildest performance cards: Celebrating 21 years of creations made at Mivart St Studio (PACTS) See Slapstick and Slaughter-Desperate Men-Two …

Posted by Richard Headon | 13.05.15 | Categories: dada, comic, surreal, moving, wonderful
Jobs
Circus City is Bristol's Biennial Contemporary Circus Festival set to happen across the city 8-31st of October 2015.  We are looking for a bo…

Keywords: circus, box office, bristol, manager, festival

Exeter Northcott Theatre is growing. It is returning to producing its own work, alongside continuing to bring the breadth of the best in drama, fam…

A free burger, a drink and 2 tickets to our event

Hi All  I am Laura, who is arranging arranging Rock the Record 2015, for Off The Record, Bristol. It is a chairty that supports young people'…

Keywords:
Opportunities
Future Producers is a talent development programmefor 18 – 25 year olds. A producer makes work happen – commissioning, managing, …
2 male and 1 female actors needed – short student film The story is about a man, Dom, and a woman, Harper, they used to be couple. They got separa…
Hello Actors, I entered my play 'Shame Man' into a competition and it has qualified for the final round. The final round is a staging of the …

Keywords: acting, development, audition, fun